Collated coil nails are used in the industries of wood furniture, architecture, board package and fitment. Especially for the binding of batch woodwork and the parts which are not easy to be operated by manual hammer. It is the ideal successor to traditional manual bulk nail.
Features:
Collated coil nails can save time and labor;
It has strong penetrating power, beauty and long duration;
Using of coil nails can reduce labor intensity and improve production efficiency. Commonly, its efficiency is 30 times of that of manual operation.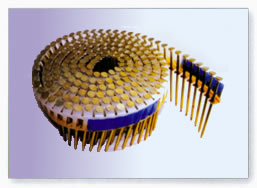 12,000-Count 2-In X .083-Gauge Wire Coil Ring Shank Painted Collated Pallet Nail

15 Degree Wire Collated Coil Roofing Nails
15 To 16 Degree Ring Shank Wire Welded Electric Galvanized Coil Nails
Wire Coil Nails Technical Info:
Wire Diameter Available: 0.083", 0.099", 0.113", 0.120", 0.131"
Nail Length: 1-1/4" to 3-1/2"
Nail Shank Types: Smooth, screw, ring
Finish: Bright, vinyl coated, electro galvanized
Angle: 16 degree, 15 degree, 10 degree, 0 degree
Winding: Flat, conical
Nails: 200-400pcs/coil
Package: 20-60 coils/ ctns, 24-40ctns / pallet
Roofing Coil Nails Technical Info:
Angle: 15 degree flat or 16 degree conical.
Wire Diameter: 0.120"
Nail Length: 3/4" 7/8" 1" 1-1/4" 1-1/2" 1-3/4"
Shanks Type: Smooth.
Point: Diamond.
Finish: Bright, electro galvanized
Plastic Sheet Coil Nails Technical Info:
Angle: 15 degree flat or 0 degree flat.
Diameter: 0.113" 0.120" 0.131"
Nail Length: 50mm-100mm
Shanks: Smooth, screw, ring.
Point: Diamond.
Finish: bright, electric galvanized